Guitar lessons with michael
In March of 2020 I returned to my hometown of Norfolk, VA with a full summer schedule of band and solo gigs.  Plans changed quickly when every gig was cancelled due to Covid. 
I had taught guitar lessons to a small group of students and friends here and there, but this seemed like a good time to offer a more concentrated approach. 
It has turned in to something that I really enjoy, with about half of my lessons in person and the other half 1 on 1 through the internet. 
Teaching actually teaches me a lot and it's very rewarding to see players of all levels improve and get excited about the endless possibilities of guitar music. 
Some of the things that we can explore together: 
Techniques

Fingerpicking
Alternate Tunings 
Slide Guitar 
Rhythm 
Chord Inversions up the Neck 

Songwriting
Basic Theory
*Though I do play electric guitar, the majority of my students are acoustic players, and many just want to learn how to play specific songs.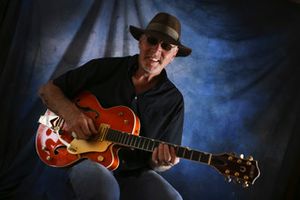 Testimonials
"

Michael is the gold standard if you want to learn guitar at any level. An outrageously talented player himself, he also has the ability to explain and demonstrate concepts clearly and simply. He adapts to your pace, and never is rigid or inflexible in his approach. Michael understands that it's all about the experience of making music and it's a privilege to have him take that journey with me." - Ned Neaher
"

It has been wonderful taking guitar lessons with Michael. As a beginner I was very nervous about trying to pick up guitar as an adult. Michael made it very easy to start, and he broke the lessons down so that I could learn the basics and begin to play on my own very quickly. Michael built my lessons based on my goals. Over time I have been able to play many of my favorite songs by ear without having to rely on songbooks." - Cheri Pridgen
"

Michael always provides a plethora of ideas across the entire fretboard, multiple chord variations and tasteful licks to move between them. Michael helps with a greater understanding of music theory as he explains the relationships between chords and licks across the fretboard. I leave every lesson with ideas for immediate improvement. Michael often follows up with a few short videos. These videos have become a treasured resource for me. " - Greg Branigan